Ever since I was little, I LOVED spaghetti sauce. My mom would add molasses to the sauce to get my sister and I to eat it and ever since then, I have been hooked on that spaghetti sauce.
Over the past year, I have been trying to incorporate vegetables into my breakfast. I walked into the kitchen that morning and remembered how good my spaghetti sauce was the night before so I thought, "I would really like some of that spaghetti sauce for breakfast." But how to make it breakfast-y? Add eggs! The way the tang of the cooked tomatoes went with the creamy yolk was awesome. I suppose this is a take on the popular shakshuka which is basically eggs cooked in tomato sauce.
I wouldn't even mind a side of wilted fresh spinach with the dish to add even more vegetables. A piece of toast would also be a good addition, I just try to limit my carb intake. This dish as pictured is low carb, paleo, and delicious!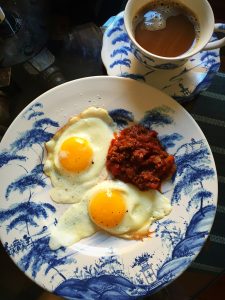 My lovely china is by Juliska and in their Country Estate pattern in Delft Blue.